Well, we've been through a hellish few weeks trying to get to the end of the house-moving process. It's been one set-back after another.. but at last today we exchanged contracts on our house purchase, with completion set for tomorrow.
It's been such a rocky ride I can't say with any certainty that we'll get to move in to our new place tomorrow.. the only sure thing is that we will be moving out from here! This could be my last post for a couple of weeks as it takes a while to get the phone line and broadband all set up (yes, I am going to go CRAZY! But at least I may get some scrapping done.. as and when I locate my essential bits and pieces.. on that subject, packing up brought home to me what an embarrassingly huge amount of stash I have!).
Today is my Dad's 60th birthday (Happy Birthday Dad!!!)... as part of his present I made a little mini-book called 'A little book of happiness'. It's filled with photos of Dad, Mum, Charlie and Harry during our holidays in Wales and their visits to us. It was fun to make and also busted a bit of stash!
Here is the front cover:
The papers are by Bo Bunny and the butterfly stickers by Papermania. The other alphas are assorted letter stickers and rub-ons.
Here's the inside front cover: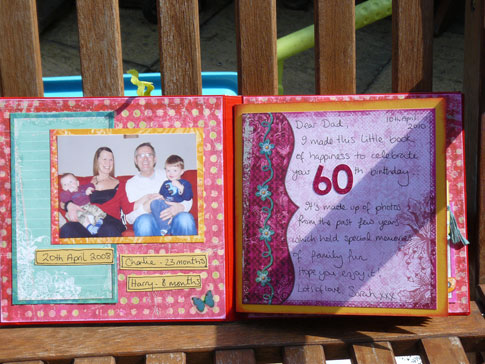 Well, that's it - my time is up.. got to finish packing and get to bed.. so apologies if I don't get around to see you for a while, my blog friends.. I'll catch up when I can!
Sarah x