Our Easter day started with clouds and rain.. but as soon as the sun appeared I was in the garden surreptitously scattering little chocolate eggs amongst the flower-pots and in the borders. When all was set, out we went, the boys clutching their little Easter baskets, to see if the Easter bunnies had been.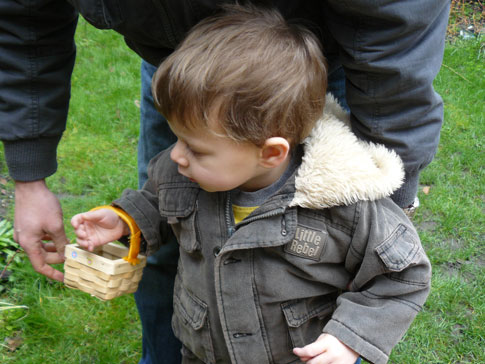 Unfortunately, my scattering of choccie treats in the flower borders was not such a smart idea.. while retrieving an egg nestled in a clump of bluebells, Harry managed to trample heavily on a couple of newly-emerged Allium plants. Oh well... they'll be fine next year, when we're gone from this house!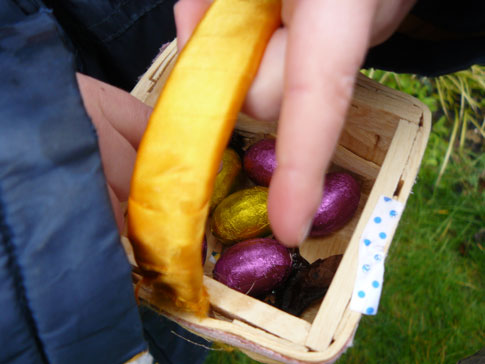 (That yucky-looking brown thing is a wet leaf, not a slug.)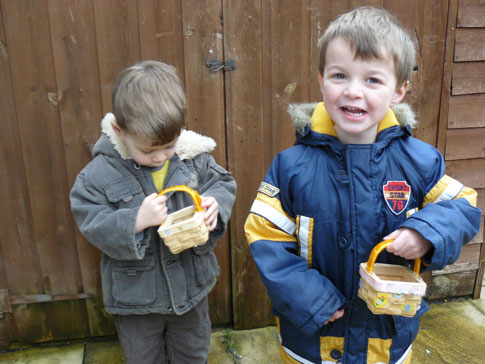 The boys were delighted with their spoils - six eggs for Charlie and five for Harry - and they have got through the day eating just three each. We didn't buy them any other Easter eggs and they didn't expect any more. Oh, how I wish it would stay that way!
We had a delicious Easter lunch - steak for Gareth and Charlie, Quorn escalopes for Harry and me - complete with roast potatoes, parsnips, broccoli, garlic mushrooms and mini corn-on-the-cobs. Yes, a slightly bizarre combination but it tasted good!
On a crafty note, here's a card I made yesterday for our friends, James and Kate, to celebrate the birth of their baby, Samuel: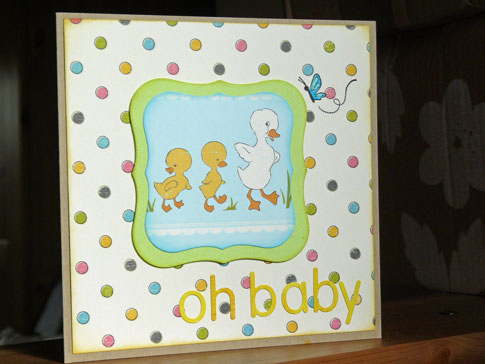 The papers are from the 'Ducks in a Row' range by October Afternoon and the alpha stickers are Basic Grey's 'June Bug' letters.
It's so exciting to see that Shimelle has extended the 'Something From Almost Nothing' class with challenges continuing through April. It's been such fun seeing the amazing pages everyone has come up with - so many fresh new ideas to try.
I'm still thinking about the possibility of starting up a new challenge blog, based around finding new ways to use up old stash. I know there are already lots of challenge blogs out there, so I'm going to have to convince myself the crafting world needs another one before I plunge in there. A couple of virtually sleep-free nights have given me plenty of ideas.. this would not be just a challenge blog, I'd like to make it a bit more than that! Once I've turned these ideas into a coherent plan, I'll let you know what I'm thinking.. and then you can give me your honest opinion!
Meanwhile, enjoy the rest of your Easter weekend.. hope the sun shines where you are! :o)