Last Friday I showed you my first 'proper' attempt at digital scrapbooking and mentioned I was itching to try hybrid card-making and scrapping. Well, I'm pleased to say I've had a go.. and it wasn't that difficult!
Here are two very simple cards I made using the FREE 'Dream' mini-kit by Vinnie Pearce: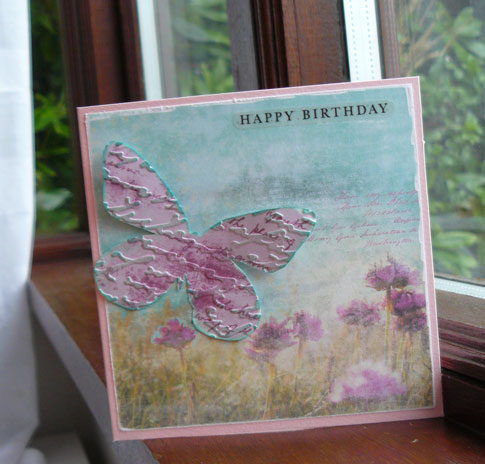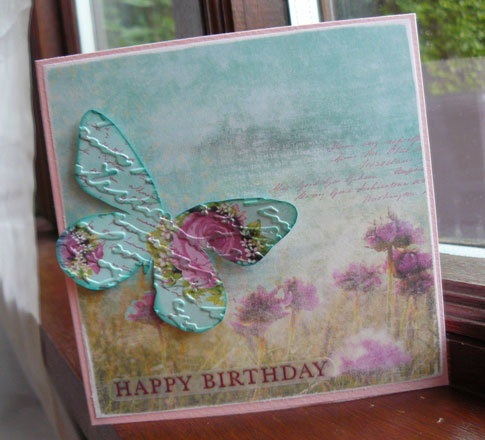 The kit is available for immediate download from Vinnie's gorgeous blog (which is well worth a look - she is a brilliant designer as well as an inspirational hybrid scrapper). 
Here's a picture of the whole kit, to whet your appetite evern more!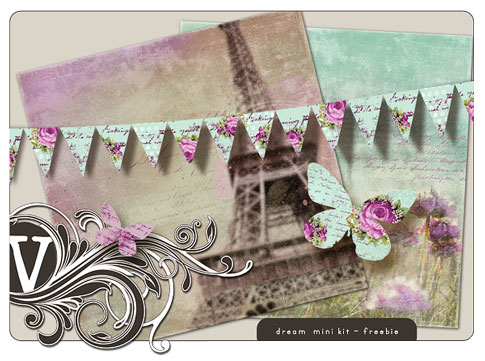 So here's what I did:
Downloaded and unzipped the kit using Winzip.

Opened the flowery background paper in Photoshop Elements 7.

Opened a new canvas and resized it to A4 (210 x 297 mm) size.

Dragged the background paper on to the new canvas and resized it to 5 inches square.

Copied and pasted it just below the first one so there were two on the page.

Printed it out on white A4 card.
To create the butterflies:
Opened a new canvas and resized to A4 as above.




Opened a butterfly and dragged it to the size I wanted.

Copied it a couple more times to make a few large and a few small ones.

Repeated this with the second butterfly and the banner, creating an A4 sheet of butterfly and banner elements.

Printed it out on white A4 card.
To make the card:
I cut out the background paper to 4.75 inches square and distressed the edges with a BasicGrey edge distressing tool.

Stuck this onto a 5 inch square pink base card.

Cut out a large butterfly and inked the edges in turquoise chalk ink (Colorbox).

Embossed the butterfly with Cuttlebug and Script embossing folder.

Inked the raised script with turquoise chalk ink.

Stuck the butterfly to the card using a sticky dot.

Added the Papermania vellum sticker greeting.
Hope that makes some sense! If you're interested in trying hybrid scrapping, have a look at Vinnie's blog - she has some incredible examples of her hybrid pages for you to drool over! ;o)