I don't generally 'do' digital scrapbooking for two key reasons...
(a) I have way too much real stash to get through

(b) I've tried a couple of times and found it frustrating and difficult.
But this morning I was inspired to have another go.. by a beautiful hybrid card by Lucy Abrams, in which she used the brand-new digital kit by Michelle Underwood called 'It's the Little Things' (available on Two Peas).
I thought I'd share, not because I think it's amazing (it so isn't!) but I am a little bit proud of the progress I've made. And I actually enjoyed doing it, too! It's good fun being able to move papers and elements around, resizing them and turning them round - without fear of ruining a good sheet of patterned paper or using up letter stickers!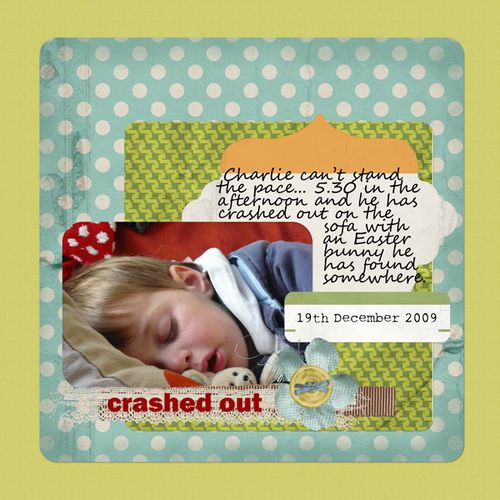 For this layout I used Michelle Underwood's kit and also a free kit of page templates by Jen Martakis, available on Two Peas now.
Evidently I still have a steep learning curve in front of me.. like how to put in drop shadows, for a start!
What I really want to do now is make hybrid cards (like Lucy does so incredibly well), and print bits of digi-kits to use on hybrid scrapbook layouts. Being able to resize journaling boxes and labels would be really handy, for example.
But do you know what I'd like to do even more? Design my own digital elements. I'd love to be able to do this! I'm really not sure where to start though.. I've had a tiny play around with Photoshop Elements but it wasn't entirely successful, shall we say. Maybe there's a better way, a piece of software that all the digital designers use... Any ideas?
What are your views on digi-scrapping? Is it the way forward.. or would you rather stick with paper and glue (mind the pun..)?