Thank you so much, ladies, for your kind words yesterday.. my Dad arrived home from hospital yesterday afternoon and sounded very chirpy on the phone.. my Mum, however, said she felt like 'an old rag' after what he'd put her through!
So, life can return to normal, more or less, which means I managed to do a quick layout last night, inspired by Shimelle's prompt on using up some buttons.
I've been meaning to scrapbook this 8x10 inch photo for ages, and tried to do something with patterned paper scraps last week, but no go. Buttons, on the other hand... a simple heart-shaped frame and white cardstock background... (almost) voila!!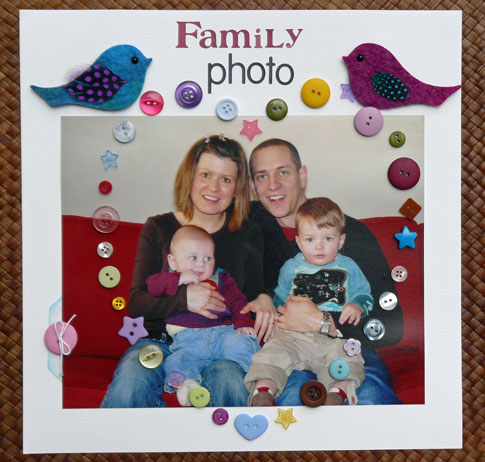 I couldn't resist adding a couple of birdies, die-cut with space-dyed felt (from 21st Century Yarns), with feathers for wings (got these from a toy shop in the craft section) and Hero Arts black pearls.
The alphas are Basic Grey, from the 'Perhaps' and 'June Bug' collections. The journaling tag was inked with blue chalk ink round the edges and with purple and blue inks in the centre using sequin waste as a stencil. Loving this technique!!!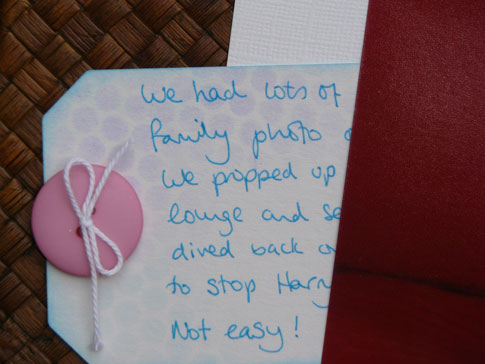 The photo was taken in February 2008; Harry was nearly 6 months old (and a little chubby, it has to be said!) and Charlie about 20 months old.
I've been having thoughts... and ideas... about 'Something About Almost Nothing', and the fact that it's nearly over (boo-hoo!!). I'll do a separate post on this a bit later.. I'd love to know what you think too, so please stay tuned!