First of all.. thank you SO much for your kind and heart-felt comments on my previous post.. I'm really grateful for your comforting words. I'm still trying to find an extra couple of hours in the day to do as much blog-hopping as I'd like.. so apologies if I haven't yet thanked you personally.. I'll get there.
On to a more cheery subject.. hand-made Christmas cards! Sometimes, when time is running short.. as it always is.. I wonder why (oh why) do I insist on making all my Christmas cards?!! But then, when I receive one that's been hand-made with love and care, I remember it is worth the extra effort! Knowing how much I appreciate a hand-made card, it's nice to think that others enjoy the ones I make for them, too.
This one's from Pat, my Stampin' Up! 'mummy' and friend from Bromley. Love the striking colour scheme.. want that Dec 25th stamp! (and I had to laugh at your message inside the card.. ;o))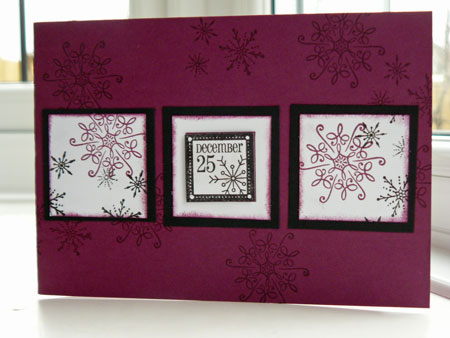 This next one's from Linda, a kind-hearted lady and friend who attends my card-making and scrapbooking classes.. she also makes the most wonderful chocolate brownies! The stamp was from Time to Sow and the ribbon from Stampin' Up! Love how she stamped on the ribbon and used the green hand-made paper for the background.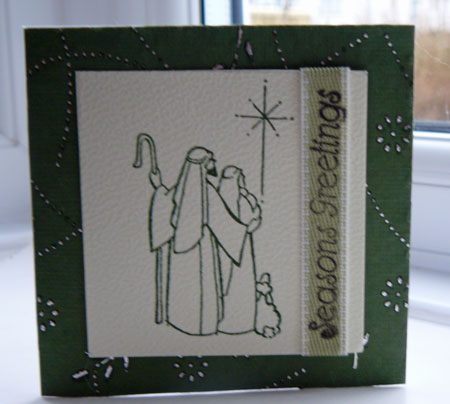 This one is from Jacky - as if you couldn't tell! I mean WOW!!!! The layers, the detail, I LOVE the delicate colour scheme and the beautiful colouring of the stamp.. breathtaking! Thank you so much for this card, Jacky - it's so amazing to savour and touch all of its little details.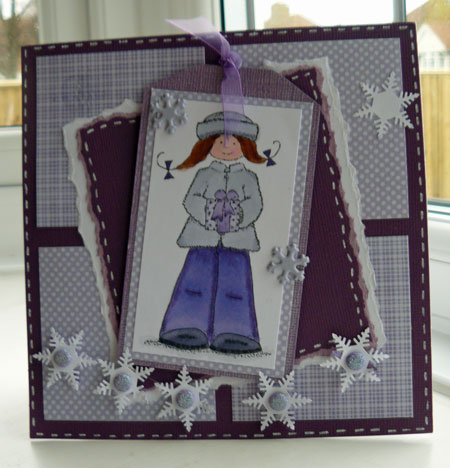 In fact, I was so inspired by Jacky's card, I 'borrowed' elements of its design in a card I made for both my Mums & Dads..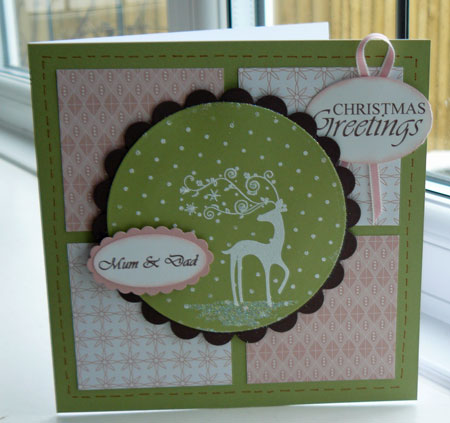 This one was for Mum & Dad Piggott. The deer stamp is 'Dasher' by Stampin' Up! and the colours are Pear Pizazz, Blushing Bride, Chocolate Chip and Whisper White. The one for my parents was the same but I alternated the pink and green colour scheme.. and forgot to take a photo of it.. but you get the idea.
I think I'll do a separate post to document my boys' Christmas creations.. let's just say it'll take til next Christmas to get the glitter out of the carpet..
Happy Christmas Eve Eve!!!