I am finally free! This morning I handed in the last of my City & Guilds Photography coursework - on time as well. What a relief.. although, on the whole I've really enjoyed doing this course - the learning, the friends I've made, the sense of accomplishment - this last term has been the least enjoyable of the three. Anyway, I managed to motivate myself to just get it done - and now I'm free to do what I like!
In between all this workbook-writing and portfolio-compiling, I managed to complete a scrapbook page for the Hero Arts blog's weekly challenge. This week the theme was Monochromatic colour schemes. I used a lovely photo of Harry, taken on the day he turnred 23 months, and a green colour scheme. Why green? I just found a few scraps of BasicGrey that I liked, along with some gorgeous Bazzill Dotted Swiss cardstock and some sequin mesh bought from a toy shop, and pieced it all together.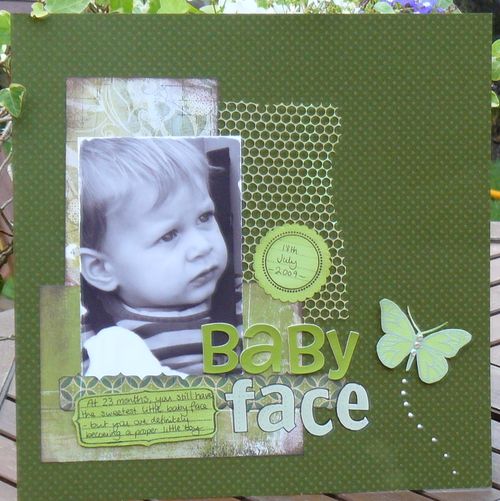 I only just managed to upload the LO to the Flickr group in time, but I'm SO glad I bothered.. I actually WON the scrapbooking prize! Or rather Harry did... I think it was his super-cute little face that swung it. Whatever it was, I haven't stopped grinning, I'm so thrilled to have won.
I think the prize is a gift certificate for the Hero Arts shop.. so I'll be able to add to my HA stamp collection and maybe give this overworked heart-winged butterfly a little rest.