Today's lesson:
You might think you're well prepared.. but you've probably still overlooked something.
I had my monthly card-making class this morning and felt comparatively at ease in the half-an-hour or so before it was due to start. I had all the materials prepared for each person, stamps, inks, punches at the ready, carpet hoovered, clutter hidden away..
Then a knock at the kitchen door.. it was one of my lovely ladies who I'd thought wasn't coming. I'd emailed her during the week and didn't get a reply, so I assumed she wasn't going to make it. [Of course I could have phoned her to check! But, to be honest, I really dislike the phone.. especially having to phone people.. it's something of a phobia. What if they're busy? In the middle of dinner, or a favourite programme?]
So Joan came through the kitchen, which quite frankly was a total mess, and I felt a bit flustered as I now didn't have enough materials prepared or instructions printed. As it happened, the class went pretty well and it wasn't a problem.. but I made several mental Notes To Self - (1) Make sure you know exactly who is coming, (2) Prepare a spare set of materials, just in case.. (3) Tidy the kitchen.. and check the downstairs loo (you never know with little boys in the house..).
Anyway.. the ladies all went away with five very lovely Christmas cards.. and they are all coming back next month.
Here's a couple of examples of the cards we made..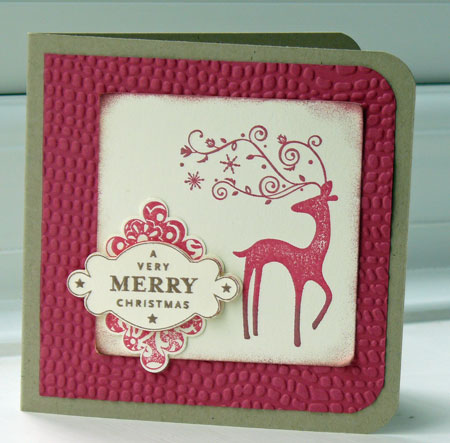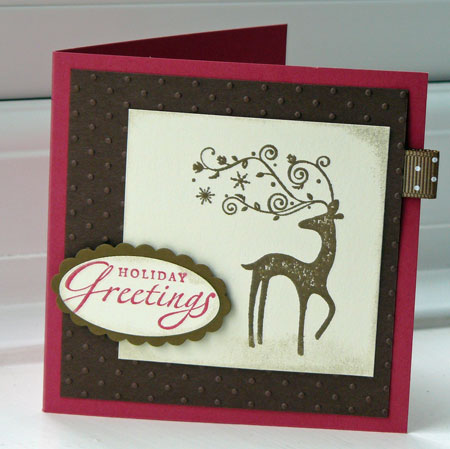 The reindeer stamp is called 'Dasher' and it's by Stampin' Up! If you'd like to see more, or are interested in how I made the cards, pop over to Seaside Stampers for the details..  :o)
Sarah x