The boys bounded in this morning at 6:45am after a blissful night's sleep. Lucky them.. I could have done with another hour myself..
At least it meant we were up and ready, with time to spare, for Harry's first day back to Nursery. He settled in brilliantly, busying himself with the toy cars and giving Charlie and me a cheery goodbye wave.
With just Charlie in the house this morning, the place is SO much more peaceful.. and I'm feeling more on an even keel than I did yesterday. I've photographed my work so far.. and here it is: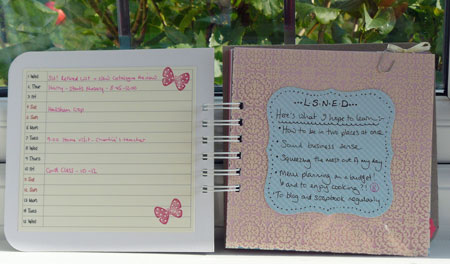 This is the inside front cover - it's a calendar for the first half of the month: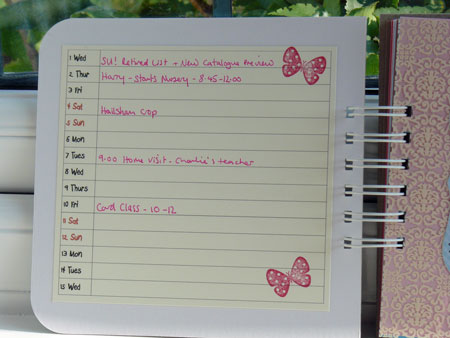 My title page explains what I hope to learn this month (although I fear it'll take a lot more than a month to learn some of these lessons..)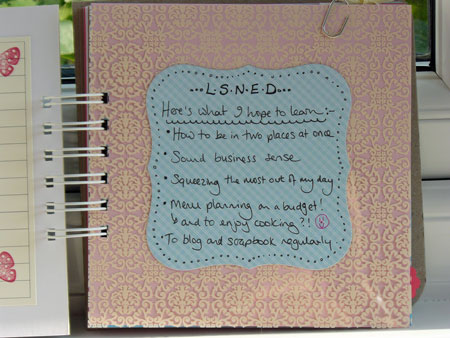 Maybe I should explain my frazzled thinking when I wrote this on 31st August..
When Charlie starts his new school, I will need to drop him off at 8:40am, then somehow sprint to Nursery - with Harry in the buggy - to drop him off at 8:45am. It's about a ten minute walk.. uphill. Hence the need to be in two places at once.
I think sometimes I let my heart rule my head.. and undervalue what I do.. and have made umpteen other little mistakes in my quest to make crafting a business as well as a hobby. A subject for another blog post, perhaps..
I need to learn how to work SMART - I guess being out of the workplace for 4 and a half years means I'm a bit out of practice. I get flustered and stressed when I have lots to deal with all at once.. and I'd really like to get better at this.
I really dislike cooking. I used to enjoy it when I was just cooking for myself and Gareth. But since having the boys, it's become a great big CHORE! I think their fussy tastes have really dented my confidence and enthusiasm in the kitchen. I need to try and get it back somehow!
And finally.. I really admire my fellow bloggers who have regular blog features and who manage to write intriguing blog posts filled with crafty goodness. I aspire to be this organised!! Again, it's all down to time management..
Phew! Where did that come from?!!
On to my page for 1st September..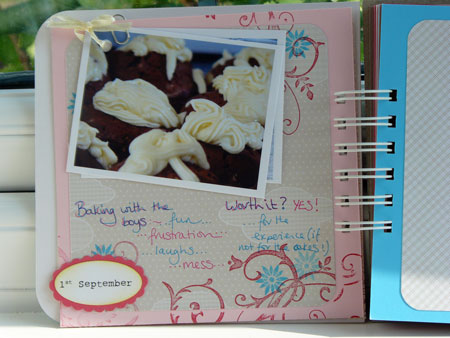 I'm not entirely pleased with it.. it's a bit of a mess to be honest, but perhaps that accurately reflects my headspace last night!
The stamps I used were from the Baroque Motifs stamp set by Stampin' Up! If you're interested in buying any SU! products, or finding out a little more about SU!, I'd be delighted to welcome you over at my other blog Seaside Stampers. As I mentioned previously, I'm offering FREE shipping on all orders within the UK for the month of September.
Right.. I'm off to enjoy some quality time with Charlie.
Have a lovely day!
Sarah x