Harry's first day back at Nursery yesterday went pretty well, although apparently one of the teachers shushed him during circle time, which he was a little upset over. He was trying to tell everyone about our summer camping trip but I suspect it was someone else's turn to talk. Oh well, he'll learn!
In the afternoon, we met up with my friend Jo and her little girl Rosie in Eastbourne. After a nice cup of tea and a cake in the shoe/toy shop/cafe, we walked over to Gildredge Park. The playground was teeming with mums and kids enjoying the sunshine.. and the last shreds of summer. Charlie spent about 20 minutes on one of those stand-up roundabout things, gently turning round and round. Preoccupied with Harry, I left him to it.. big mistake - and one of my learning points for the day.
We were about to leave when Charlie wandered over to me. 'Aren't you feeling dizzy after all that spinning?' I asked. 'I don't feel very well,' he replied in a small voice. I crouched down to give him a hug, at which point he threw up over my shoulder. Bleargh!!! Thankfully Jo was on hand with a bottle of water and copious wipes, and was even so kind as to clean the mess out of my hair.. not a nice job as you can imagine!
Lesson learned... Don't let Charlie spin on roundabouts - unless there's a good friend on hand to deal with the consequences.
As if that wasn't enough, we returned to the car to find we'd notched up a parking bill of £4.40.. for two-and-a-bit hours - ouch! And I could have parked up the road for nothing. Another lesson learned... The Enterprise car park is a last resort.. park on the street next time!
On the way home, I don't think my mind was fully on the road ahead as I had a bit of a near-miss involving a reversing car and a bus. I'll spare you the details.. suffice to say I drove very carefully the rest of the way home.. and we arrived unscathed (stinking of sick, yes, but unharmed). Third lesson learned... When driving, ensure brain is fully engaged at all times.
And on to the page... I actually used Shimelle's 'Print & Cut Challenges' to help me decide how to tackle it.. and picked out 'Go with lots of labels!'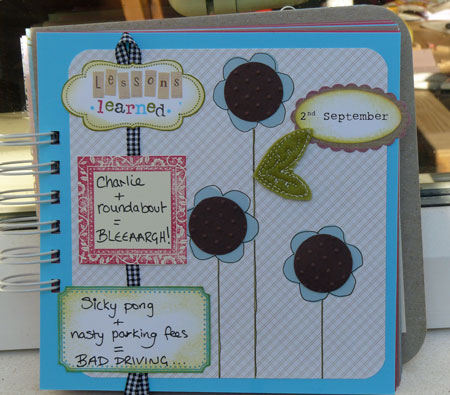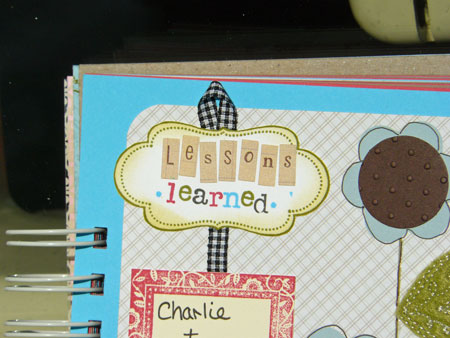 The labels were stamped with Stampin' Up! 'Frames With A Flourish'.
The letter stickers are Making Memories 'Tiny Alphas' and the letter stamps are by Studio G.
The felt leaf is SU!'s 'Stitched Felt - Sweet Pea'.
Thanks for your visit!
Sarah x