I've been beavering away at my mini-book for Learn Something New.. just four days to go! Rather than having to 'reinvent the wheel' each day, as I attempted last year, I decided to make things easier by binding the book and stick in papers on each page. Eeeek! I'm hoping I don't regret what I've done so far - but my challenge is going to be 'Don't Stress - Just Go With It!'

The papers are all from the Stampin' Up! Sweet Pea Designer Series Paper stack.. so many gorgeous patterns!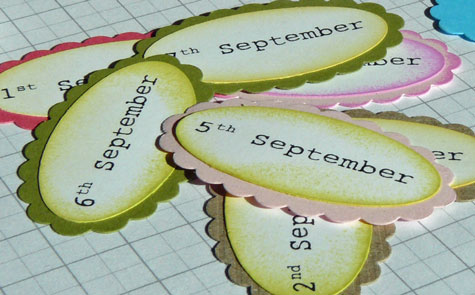 I printed my dates on to white cardstock then punched each one out with a Stampin' Up! Oval punch. I also punched out a load of Scalloped Ovals in coordinating colours and stuck the first few dates to scalloped ovals (after inking the ovals first). I've done the first week's labels (you didn't think I'd have sat there and done all thirty did you..?).
Next job - gather up/make embellishments and journaling spots. Yummy! :o)