Last week I was browsing the Netmums Coffee House arts & crafts forum and came across a request:
Anyone make fantastic persoanilsed cards?? (sic)
The lady wanted a special card for her other half's 30th birthday so, feeling public-spirited, I said I'd be happy to help. She then got back to me with some frighteningly specific requirements. She wanted 'something like a bloke on a black and red motor bike', and went on to say her OH's 'fave bike is the Honda CBR 600 RR'.
Right then.. I panicked for a minute and wondered what I'd got myself into. Racking my brains, I just couldn't recall any 'blokes on motorbikes' stamps, stickers or even (shudder) peel-offs in my stash. What to do? Admit defeat? Or find a piccie on the tinterweb and add text and such?
To my relief, it was remarkably easy to find a suitable (in fact, perfect) picture.. and the rest came together quite painlessly too!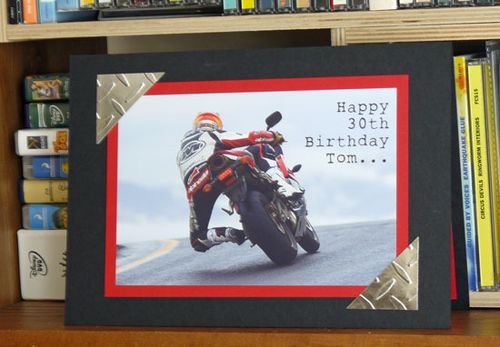 I made the silver corners with a Diamond Plate Cuttlebug embossing folder. Inside the card, I added an insert which read 'You're not quite over the hill yet'. Ho ho! 
I just hope my customer and her birthday boy like it.. haven't heard back from her yet. Will let you know!
ETA: She liked the card.. and so did her man.. so I'm happy!