It was my mum-in-law's 60th birthday on Monday and for a while we had been trying to come up with some special gifts for her.
It just so happened that I recently 'met' online an Eastbourne lady who makes the most exquisite jewellery - her blog is called Lady In Pink Creations and is well worth a look. Browsing Jo's blog, I became really excited at the thought of asking her to make a special gift for the birthday lady! We decided on a necklace and earrings set incorporating Maureen's birthstone, rubies, along with freshwater pearls and swarovski crystals. Jo did a fantastic job - Maureen was thrilled with her gift and looked radiant in the stunning necklace and earrings!
My photo doesn't really do it justice but there's a better photo on Jo's blog here.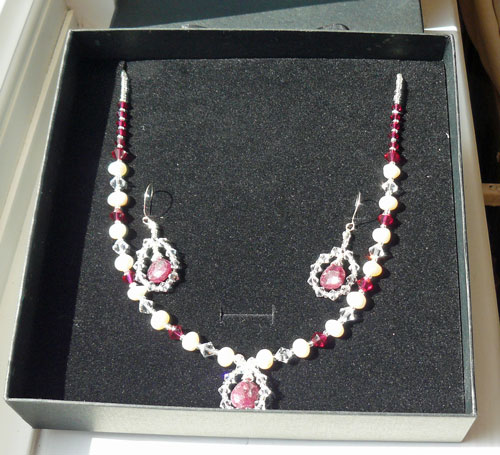 And here's the birthday card I made for Maureen...
The card was made with Stampin' Up! stamps, designer papers and punches; further details can be found on my Stampin' Up! blog, Seaside Stampers.