Not literally, you understand... it's just that I've been working on this layout since Friday - when Shimelle's class prompt involved using up your patterned paper scraps. Inspired by one of the gorgeous layouts in the prompt, I punched about a million circles out of my Basic Grey 'Urban Prairie' papers.. and then fell prey to scrapper's block. My original idea just looked rubbish so I had to leave it awhile.. until I thought of using them to form scallops around the edge of a smaller piece of cardstock, then mounting on 12x12.

I felt the blue cardstock was a bit plain so I stamped it with some lovely Basic Grey swirl stamps using Clear Embossing Ink, which seemed to have a watermark effect like using Versamark. In the morning, though, I found it had all but disappeared! I could just make out the swirly lines, so I went over the stamping with a Sakura Souffle green pen - and now it looks like doodling!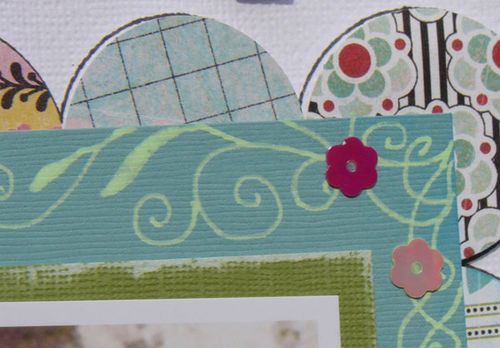 Monday's prompt was all about using ribbon.. reminding me that I had a bundle of Urban Prairie fibres tucked away that I've never used. I fancied threading them around the edges of the layout in some way.. then - lightbulb moment - thought of my little-used Bind-It-All. What a simple way to get nice evenly spaced holes all around the edges of the cardstock. I really like how this turned out.

I decided the layout needed something to fill the space on the left.. either circles or birds. I went for three birds as I thought they echoed the little blue bird in one of the patterned paper scallops at the top. I loved its closed eye and eyelashes, so tried to recreate that on my die-cut birdies.. particularly as I'm also blinking in the photo! The third 'bird' I'm metaphorically killing? Well, I've used metal brads for their eyes. I think that counts.. :o)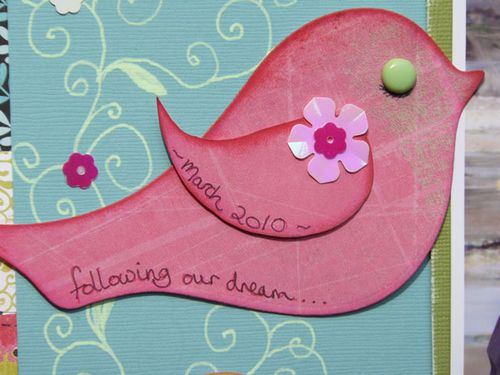 The birds were die-cut using the Shapeabilities Nesting Bird dies. I added hand-cut wings, flower sequins and inked around the edges. On one of the birds I used some sequin waste (punchinella) from Gauche Alchemy as a stencil and dabbed ink through it. Love that effect!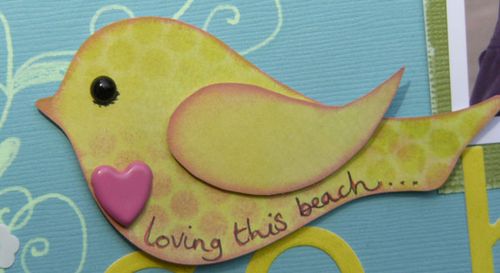 The layout is simply about how I'm happy that we are following our dream by moving down to the South Coast, happy to be closer to our family.. and just happy to be on the beach!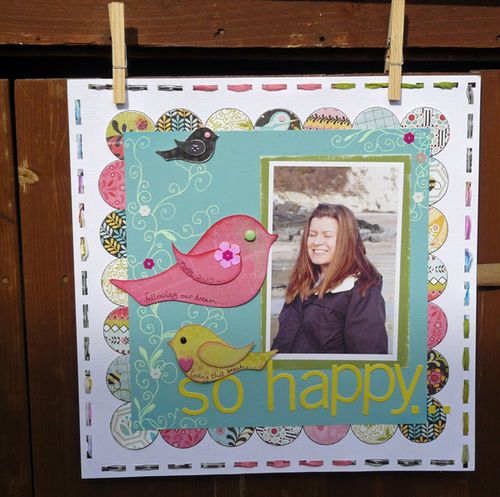 Thanks for looking.. if you made it this far! ;-)