So Shimelle's eagerly-awaited new class started on Wednesday... and so far, so fabulous! The first prompt was designed to get you using up all things metal - brads, eyelets, frames, tags and so on... I must have hundreds of brads n' eyelets which I rarely use. The prompt contained some really lovely ideas for using these things.. and then a sketch for the title page of the album project, Celebrate Life (interpret as you will!).
Here's a couple of peeks at my title page..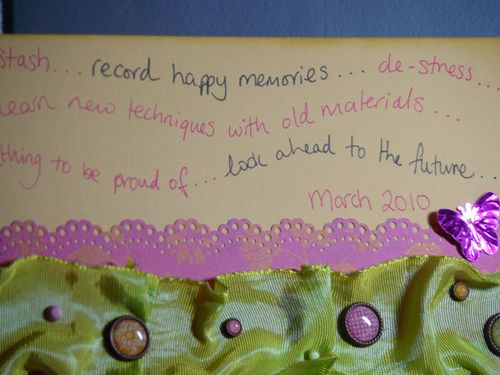 I'll take a picture of the whole thing in proper light tomorrow (if we get any) and post a list of the supplies I used (hint: it includes LOTS of brads).
The second prompt, which Shimelle posted today, includes some fabulous ideas for making use of patterned paper scraps.. let's face it, who doesn't have mountains of them?! I am VERY keen to tame my paper scrap collection, it really is getting out of hand.
Talking of which, if you have any top tips for organising paper scraps... I'd love to hear them!