Here's a picture Charlie did for me on Friday in nursery. I was moved almost to tears, embarrassingly enough!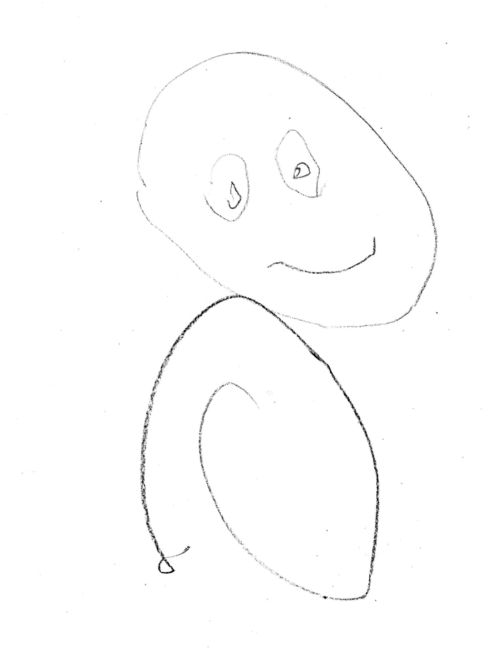 I was at the Bromley Scrapaholics crop yesterday and managed to (almost) complete a layout telling the story of Charlie's picture... pretty fast work for me! ;o) I used the cover layout of February's 'Scrapbook Trends' magazine for inspiration (OK, it was a shameless scraplift)...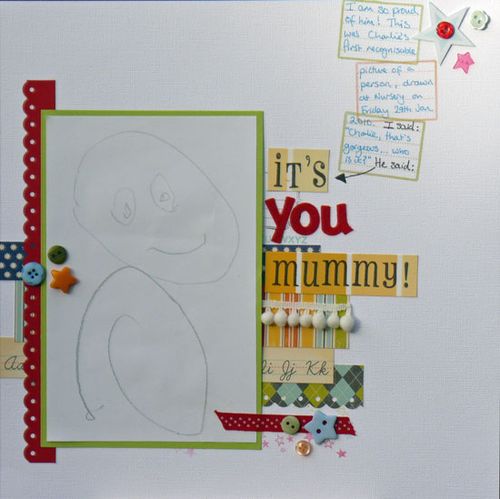 Supplies:
Cardstock - Bazzill Basics (white)
Papers - October Afternoon 'Report Card'
Stamps - Banana Frog 'Journaling', 'Pharmacy', 'It's All About Stars'; October Afternoon 'Ducks in a Row' set
Letter stickers - American Crafts Felt Thickers 'Playroom'
Various buttons, Dulux paint chip card, ribbon
It's great to be able to share a layout at last!
xoxoxoxoxox
It's been a busy few weeks.. To cut a long story short, we have decided to move to Eastbourne - and soon! Having made the decision just two weeks ago, our house went on the market yesterday. We have one couple who are very interested but we're waiting to see if they can come up with a reasonable offer. All being well, we hope to go down to Eastbourne next weekend to view four or five houses and - fingers crossed - make an offer ourselves!
The whole story of our sudden decision to relocate is the subject of a layout I've done for Gauche Alchemy, using a selection of bits & pieces from their 'Ball and Chain' kit and two of their mixed media colour kits. It will be featured on the GA blog on 8th February as part of a post by Julie Kirk. I'm not sure if it's any good.. in fact I think I have probably laboured on it and fretted over it waaay too much - the pressure got to me!! But hey, it is what it is.