Well, we survived the Christmas season, happy and virtually unscathed. We had my parents over from South Wales for the big day and then traveled down to Eastbourne for New Year with Gareth's parents. It's been so busy I'm afraid my little blog fell by the wayside for a while.
I have a ton of Journal Your Christmas pages to share but rather than post them all here, I have uploaded all I've done (so far) to Flickr, along with descriptions and details of supplies used. My JYC photo set is here if you fancy a look - or just click the link to the left to go to my photostream!
Meanwhile, I have a couple of small projects to share - first, another of my UFO's (UnFinished Objects) which is now Finished. It is a small canvas, covered in patterned tissue paper from IKEA using Mod Podge, as described by Kirsty Neal in the 12 Days Christmas workshop.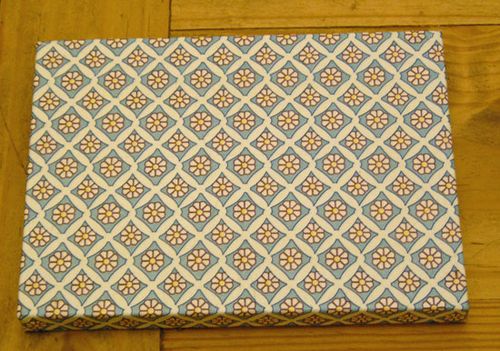 For several weeks, this was how it remained, until I had a sudden flash of inspiration just before Christmas and finished it off in just over an hour. My inspiration was this piece of ribbon, bought at the wonderful Knitting and Stitching Show back in October.
Using my Cuttlebug and Spellbinders Birds die, I cut two medium-sized birds from blue felt. I then hand-cut three hearts from red felt and stuck the smaller ones on to the birds with the third one to go in between them. I added a pink and a blue brad to each birds for eyes.
Next I stuck some red and white gingham ribbon around the edges of the canvas as a frame for the birds. Finally I stuck on the birds and the heart in the middle, using Art Glitter Designer Dries Clear Adhesive (it's brilliant stuff!).
I was going to add the word 'Peace' in letter stickers but NONE of my sets of stickers had more than one letter E so I gave up.. I might come back to it some time but I quite like it as it is, for now at least!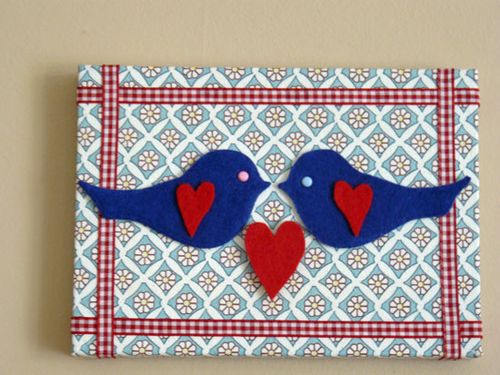 xoxoxoxoxoxoxox
My second little project to share was an unexpected - and much appreciated - Christmas present from Gareth. It was a 'Make Your Own Heart Decoration' kit from Accessorize, containing everything you need to make a cute stuffed heart - felt, floral fabric, ribbon, buttons, gems and wadding, as well as thread, needles, pins and a plastic thimble.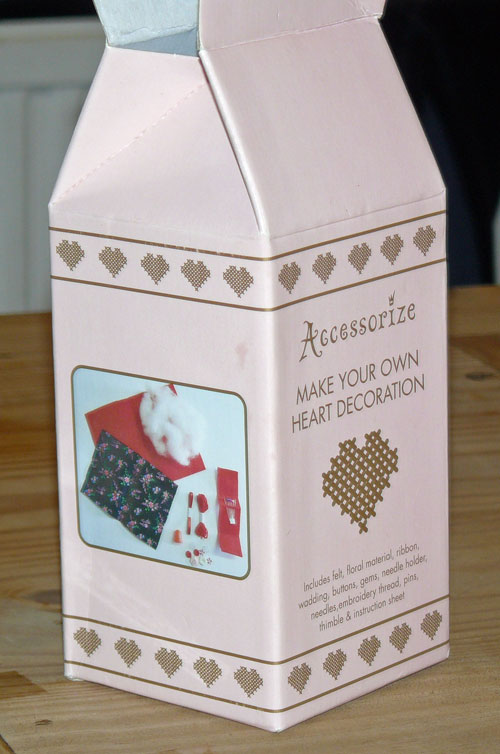 I sewed it all together while curled up on the sofa on Boxing Day, watching 'Flushed Away' and eating choccies. Bliss! It looked lovely on the Christmas tree and I can imagine making lots more out of scraps of fabric to give as gifts, maybe stuffed with dried lavender or other herbal smelly things.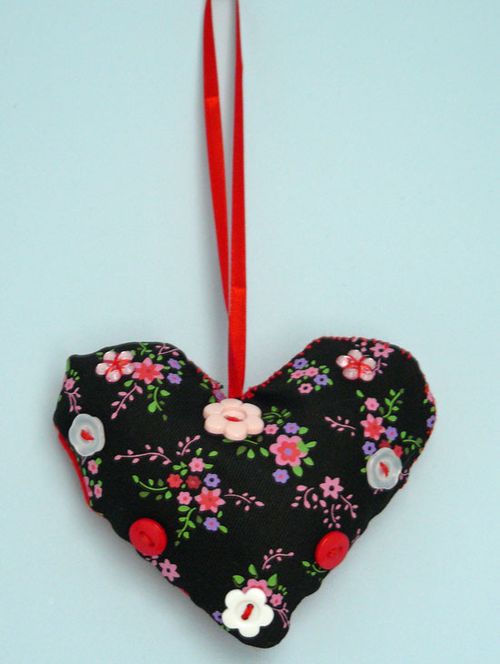 These kits are now selling at half price (£3) in Accessorize - a nice pressie for someone crafty perhaps?