I spotted some lovely little napkins on a recent trip to IKEA which I thought had definite card-making/scrapping potential. The patterns are great and each packet was about 50p!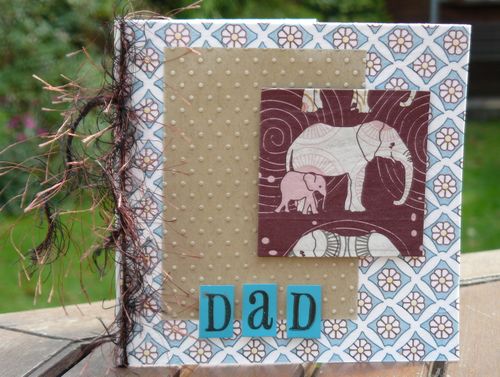 I decided to try out the napkins by making a Father's Day card. Here's what I did:
I separated the layers and glued the patterned (elephant) layer to some thick kraft paper using Mod Podge. I also glued one of the white patterned napkins to a square white base card. I left them to dry and squashed them under some heavy books to flatten them for a few days.
I then embossed a rectangle scrap of kraft paper with the Cuttlebug Swiss Dots folder and stuck it on to the base card.
Next I cut a square out of the elephant piece, to include my favourite of the elephants, and stuck this on foam dots onto the card, partially over the dotted piece of kraft.
To make the DAD letters, I stamped on to a Dulux paint chart using Banana Frog Pharmacy stamps and cut them into small tiles. I stuck these on to the card with more pop dots for a bit more dimension.
And that's it. Dad liked the card, by the way.