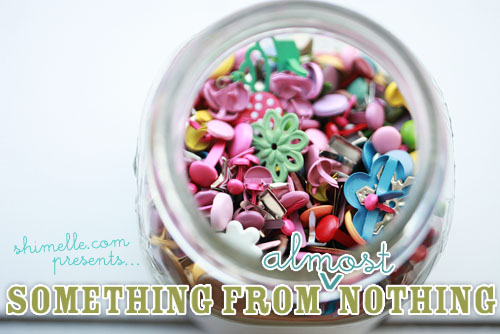 Shimelle has set a challenge for everyone taking part in her latest class, starting on Wednesday 10th March. The challenge is to admit you probably have just a little too much scrapping stash.. a few more ribbons, brads and embellishments than you could use in a lifetime.. possibly enough patterned paper to decorate your entire house, inside and out..?
Yep, that's me. I really do have way more stuff than I need (don't we all..?) - so now is the time to seriously make a dent in it. That's what Shimelle's class is all about, finding ways to make Something From (Almost) Nothing (hence the name, obviously).
My first task is to get my stash organised, which is what I've been up to today. My cardstock, papers, stickers and embellishments are in a bit of jumble, it has to be said. I have stuff downstairs in the dining room shelves.. and I have stuff upstairs in the newly converted spare room/craft room. Not ideal!!! So today I've tried to get ALL my scrapping gear upstairs and sorted into my lovely IKEA shelves.. so that by Wednesday, (a) I'll know what I own, (b) I'll know where it is, and (c) I'll have it to hand without needing to run up/downstairs to fetch it!
Here's my craft area in the dining room: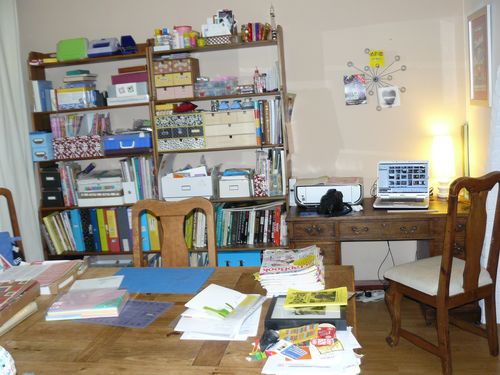 And this is my new craft room (it used to be Charlie's room, hence the little boy curtains and wallpaper border):
It's a work in progress.. but I think I'm getting there. By the time it's totally sorted we'll be moving house, no doubt, then I'll have to start all over again.. but I'll worry about that when it happens. I'll post piccies of my freshly organised craft space tomorrow.. that's a promise.