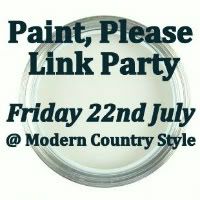 I discovered Sarah's Modern Country Style blog when researching 'country style' for a commission I was asked to do for Scrapbook Magazine. I'm glad I did.. her blog is gorgeous... craft projects, home decor, even fashion.. and it's always great fun to read!
I thought I'd share the story of our home-made kitchen makeover as part of Sarah's Paint, Please Link Party. Since we moved into our Eastbourne home just over a year ago. Despite a whiff of neglect and a hastily applied slick of Magnolia paint, we could see the house had the potential to be something far more beautiful!
So here was the kitchen just before we moved in, plastic wood cladding, mould and all..
And just after the damp-proofing works created chaos..
Our initial plan was to rip out everything from this kitchen and start from scratch. My dream? Country farmhouse kitchen - real wood units painted a creamy white - wooden butchers' block workshops - flagstones on the floor... all somewhat beyond our budget! And once all the boring-but-essential repairs were complete, we realised our budget was not much more than zero.
Back to the drawing board.. and I found I was secretly pleased.. and relieved.. that we weren't going to trash those painted wooden cupboards that had been there for decades. Under the tatty lino we found some half-decent floorboards.. and an area of quarry tiles where we imagined there used to be a fireplace.
So instead of tearing everything out and replacing with cheap copies of what we really wanted, we set about making do with what we had.. building new wooden cupboards where they were needed..
sanding and varnishing those floorboards..
begging and borrowing lengths of worktop.. painting those original cupboards (Celadon by Homebase - Santuary range).. retiling the splashbacks..
I say 'we'.. it was of course my dear hubby Gareth who did most of the work..
I merely project-managed and provided artistic input.. ;o)
For a while, we had the walls painted white.. but I knew it wasn't right - the white tiles were disappearing into the background. Not good at all! I had a notion that a slightly dusty shade of pink would be just perfect. So off we went to Homebase with a die-cut butterfly in Stampin' Up!'s Blushing Bride for inspiration.. and we returned with a tin of Mademoiselle by Crown.
Wow, did it look PINK going on those walls!! But once it was dry, I knew it was a good decision.. and even Gareth has admitted (secretly) he likes it.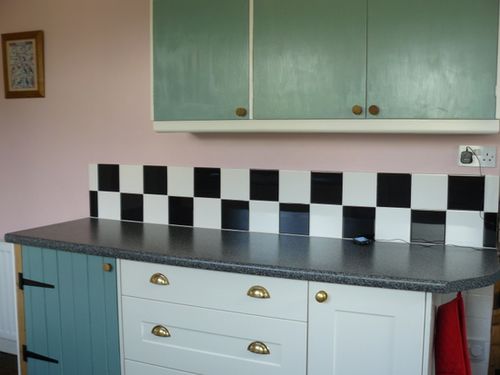 [Damn that mobile phone charging on the worktop..]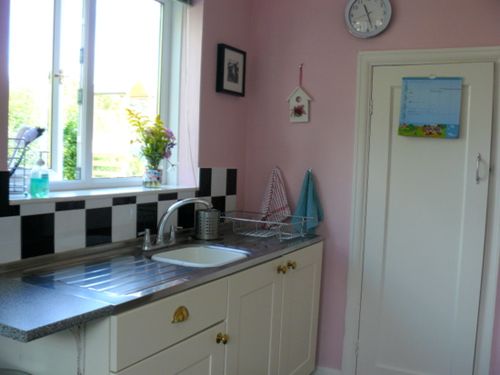 [Love my sink here so I can look out at the garden instead of a blank wall!]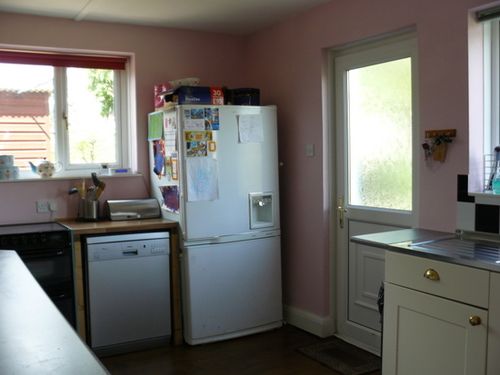 [The fridge is now where the sink used to be.]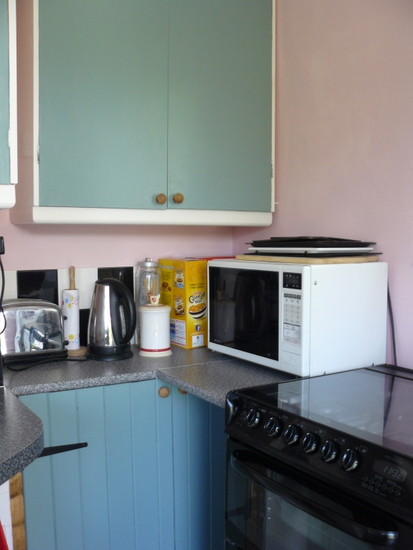 [The cupboard that Gareth built, along with a nice bit of worktop to fill in the gap and sit the microwave on. I LOVE my wooden painted cupboards!]
So that's about it.. a mixture of country cottage and 1950s diner? Oh, and finally.. a couple of sneaky peeks of the scrapbook layout I made documenting our kitchen makeover..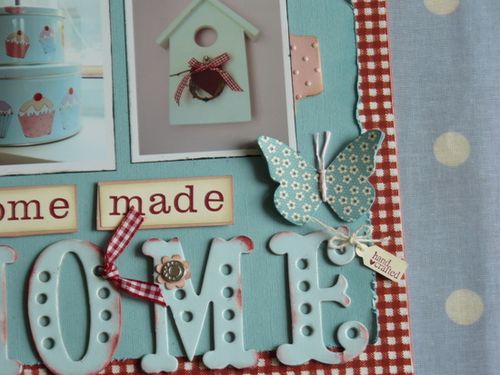 [It's not published yet.. will be in issue 58 of Scrapbook Magazine..]
Thanks so much for visiting..
[... and if scrapbooking and papercrafts are your thing, you might like to pop over to my sister website Stamping Obsession.. that's where most of my crafty projects end up these days!]
Best wishes,
Sarah xx