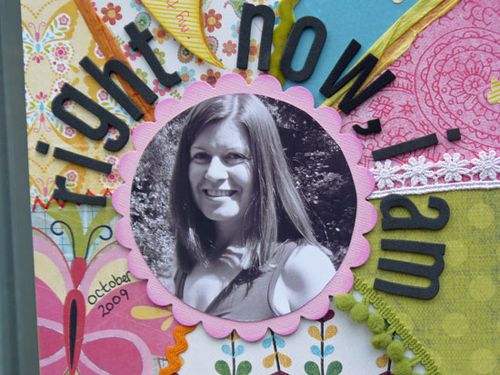 ...basking in the glow of all the lovely comments I received yesterday (and today) during the Copy + Paste Halloween Blog Party - Thank you everyone! I so enjoyed the Blog Party and exploring everyone else's wonderful projects (and blogs!).
...getting excited about next week and the start of TWO fantastic online classes: Shimelle's 'Blogging for Scrapbookers' starts tomorrow, and Kirsty Neale & Julie Kirk's '12 Days' starts on Thursday 5th Nov (click on sidebar badges for more info). It promises to be a hectic but rewarding month!
...flitting from one project to another, completely failing to get anything finished - hence sitting down to blog and share my latest 12x12" layout.
I've had this layout in a state of 'almost finished' for a week or two. It was prompted by Shimelle's weekly 'Scrap Like You Mean It' challenge on UKScrappers but, well, the deadline came and went. I finally added a few tiny butterflies last night and decided that was ENOUGH!
Right now, I am...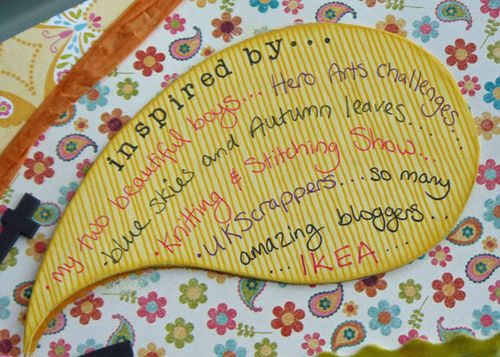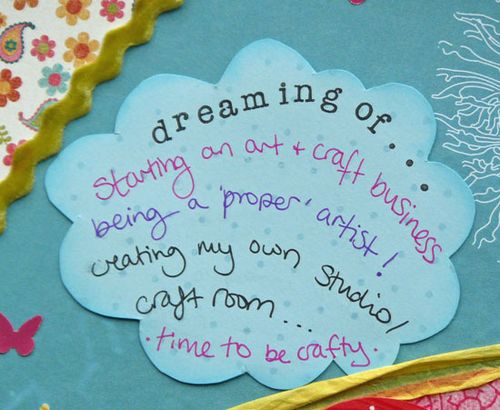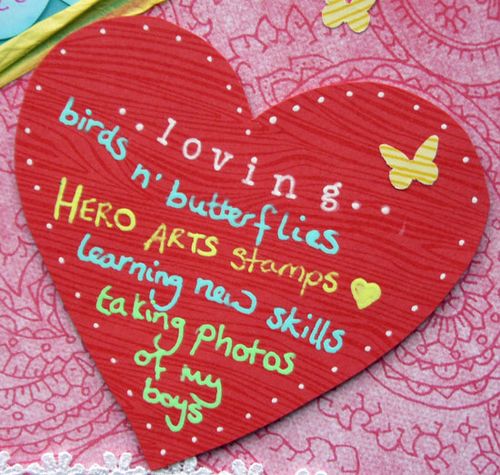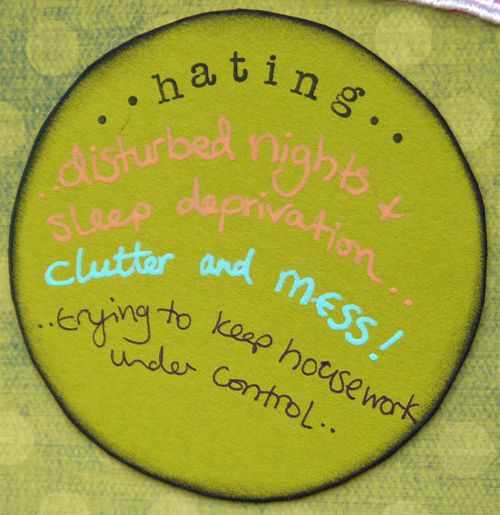 Here is the layout in full:
It was a real challenge for me to do a layout about me - tha vast majority of my stuff centres on my boys. Maybe that's why I went to town on this one.. I really enjoyed the planning, using the gorgeous papers, ribbons, stamping and inking!
My supplies were:
Papers - My Mind's Eye 'Bloom'; BasicGrey 'Urban Prairie'; Doodlebug 'Bumblebee Stripe'; Rouge de Garance 'Soleil Levant No. 3'
Ribbons etc - Bazzill pompom ribbon; orange ricrac; white lace; green velvet ricrac; pink embroidery thread; orange and yellow tissue ribbon
Alphas - American Crafts Thickers black foam 'Daiquiri'
Stamps - Hero Arts: Designer Woodgrain S5208 (used on the heart shape); Raindrop Background S5101 (used on the cloud shape); Studio G Alphabet stamp set (used for journaling titles).
Cutting - Nestabilities Scalloped Circles; Do-crafts Butterfly punch
Thanks for looking! And have a great week.. I'll no doubt be back soon with lots to share.