I have so many bits of news and pictures to share I don't quite know where to begin.. it would help if I got around to posting a bit more often I suppose. But here goes..
Saturday was my long-awaited day out to Alexandra Palace (Ally Pally) for the Big Stamp & Scrapbooking Show - I'd been resisting online stash-shopping for MONTHS (..ok, weeks..) to justify a little spending spree. It was also a chance to meet up with some of the ladies I'd 'met' on the forums in UKScrappers. It was pretty overwhelming in the big hall - hot and hectic - so it was good to slow down for a while to chat with Pat, Kate, Petra and Lee from UKS. I didn't manage to take any photos of the ladies or the stalls, despite dragging my camera round all day, but I did take some piccies of my stash haul when I got home.
Et voila: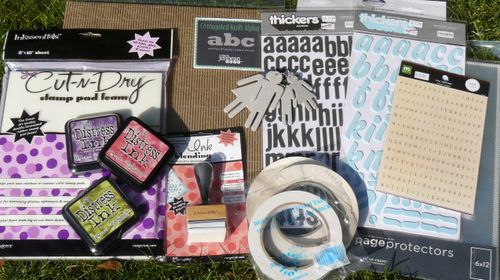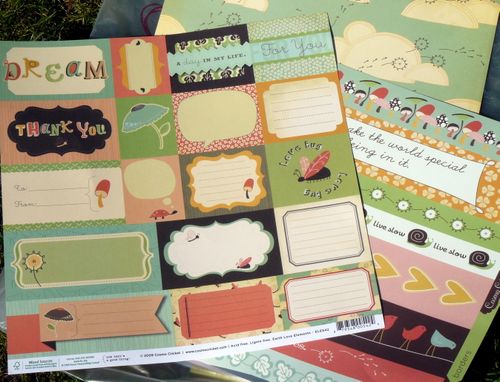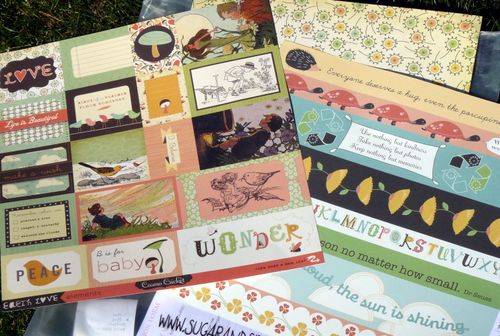 The papers above are called 'Earth Love' by Cosmo Cricket and they are wonderful. They are double sided so I took two pictures, one of each side. I am REALLY looking forward to doing some 12x12 layouts with these soon.
And more stash news...
Way back in July you may recall I won a prize in the Hero Arts blog's weekly challenge for a scrapbook page I did ('Baby Face') using a monochromatic colour scheme. The prize was a $50 shopping spree in the Hero Arts online shop (oh, bliss!). It took me absolutely AGES to decide on my goodies but eventually I did, and they arrived VERY promptly on Monday.
Here they are: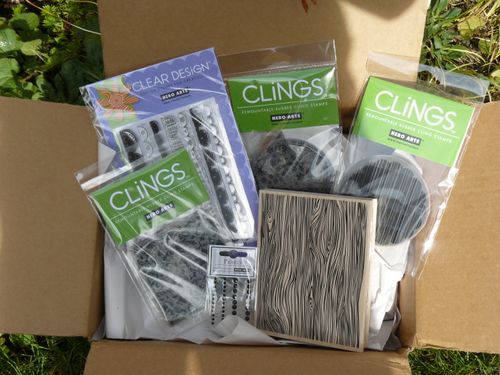 The full list is:
Clear Design - Scalloped Borders
Clings - Antique Brocade
Clings - Striped Circle
Clings - Snowflake Circle
Designer Woodgrain
Midnight Black Accent Pearls
I've already had a play with the woodgrain and the scalloped borders - I'll show pictures in my next post, which will be a Learn Something New catch-up post.